<![if !vml]>
<![endif]><![if !vml]>
<![endif]>Crookham Travel provides day tours and longer holidays with Brewery Visits, Pub Tours, Preserved Railways, Tram Systems, Christmas Markets, River Trips, Coastal Cruises, City and Country Breaks in the UK and abroad. See the pictures above for some of our past activities. Established since 1977, we have, so far, organised more than 360 trips for over 35,000 participants! Please check our "Tours" link above. All tours start from London (unless stated otherwise) but some may be joined en-route. We are a Supplier Associate Member of SIBA – The Society of Independent Brewers
Click on our TOURS tab above for details of all coming events and tours
Legal notice: this website does NOT use cookies (neither does it track you or use scripts and other annoying techie stuff)
Saturday 4th March 2017
We will be meeting at Waterloo station to join the 09:00 train to Petersfield – alternatively, you can meet us at Petersfield itself at 10:00 where we will join our coach. We'll then visit Irving Brewery which has been producing fine beers since 2007. Having served many years at the late, lamented Gales Brewery, Malcolm Irving has been brewing a number of beers on a 15 barrel brew-plant using kit formerly used at Teignworthy and Hobsons breweries. A couple of pints will be served during our visit. The Staggeringly Good Brewery started brewing in 2014 at the Brewhouse & Kitchen in Portsmouth (see below) and moved to their own brewery in Southsea during 2015. During our visit we will have generous samples from their range of (mainly) cask with some craft-keg ales as well. Lunch now beckons! We're off to Southsea's Wave Maiden (GBG) for six sandwich quarters and a pint. Serving a changing range of interesting beers on gravity. Our next brewery is located in a very unusual site – Southsea Castle. The Southsea Brewing Company who have been in business for less than a year do not normally provide full brewery tours and their planning consent doesn't allow them to serve beer at the brewery at the present so we will have a carry-out of their beer (see booking form where you can select your requirements). I suspect that this will be the first time you will have visited an active brewery located in a Tudor Castle (built by Henry VIII, no less). It's located inside an old ammunition storage room in the heart of the castle and this promises to be a unique visit.
As we're in Britain's only island city, it seems only sensible to give you time to explore some of the rest of Portsmouth and Southsea. High on your list will be the Brewhouse & Kitchen brewpub. Once a Brickwood's Brewery pub locally known as 'The Mucky Duck', this Tudor-styled 100 year old pub has been refurbished complete with its own gleaming brewery. As they will be very busy a formal brewery visit will not be possible but they will be expecting the group and you will be able to see the brewery by yourself. You will be able to explore other venues in the city until we rejoin our coach and we're whisked off to our starting point – the attractive Hampshire market town of Petersfield. There are a number of exceptionally fine pubs in town and our friend and local resident Lynne will be noting her particular favourites! You will be able to 'do your own thing' in town until you make your way back to the station and home.
x
CROOKHAM TRAVEL @ FORTY CELEBRATIONS KICK-OFF IN STYLE!
<![if !vml]>
<![endif]><![if !vml]>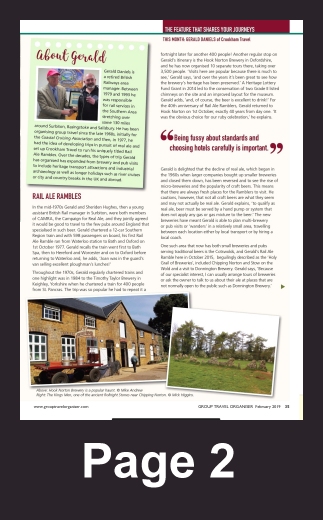 <![endif]>The first weekend of October saw 79 Crookham Travellers join "Looking Forward to Forty", a 2 day tour to some of our favourite traditional breweries first visited in our early years, together with a couple of recent additions to the brewing scene. After swapping from rail to road on the Saturday morning we were welcomed at Elgood's in Wisbech, Cambridgeshire to sample their beers and some other rare brews at the beer festival they were holding on <![if !vml]>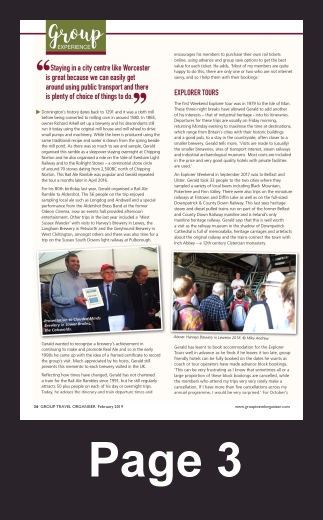 <![endif]>their premises. A tour of their very traditional brewhouse followed before we travelled further north to Batemans at Wainfleet on the Lincolnshire coast, where we were made very welcome and heard a fascinating talk by Stuart Bateman (who, with his sister Jaclyn are the 4th generation to run the family brewery) whilst we enjoyed a sumptuous ploughman's lunch and unlimited jugs of beer. After perusing the brewery and its museum our third stop of the day was Belvoir Alehouse at Old Dalby in Leicestershire where the brewery <![if !vml]>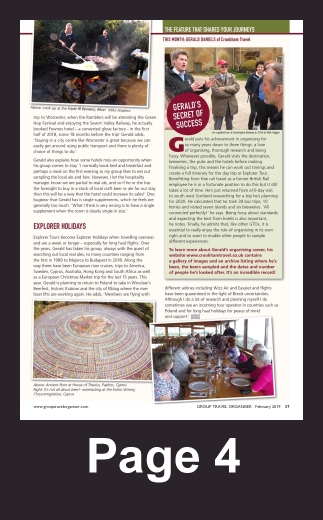 <![endif]>could be viewed through the windows during a steak pie supper followed by traditional puddings. On Sunday a visit to the North Gloucestershire Railway was followed by Hook Norton Brewery in Oxfordshire where we were once again treated like royalty with a buffet of pork pie, sandwiches and cakes, together with plenty of ale. Many staff had given up their Sunday to be with us. The steam engine was demonstrated and we were able to tour the brewery <![if !vml]>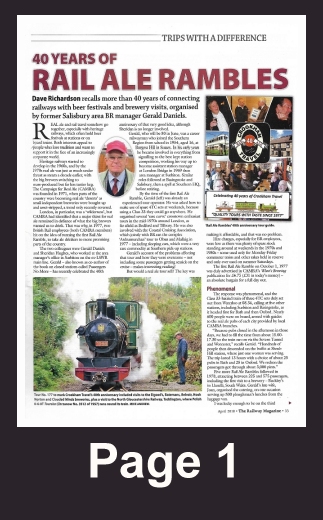 <![endif]>and museum unaccompanied, with a brewery staff member on each floor available to answer questions. Finally we made <![if !vml]>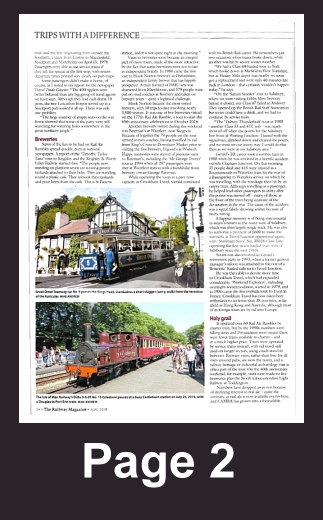 <![endif]>our way to the Clouded Minds Brewery (with its current resident "cuckoo brewer", Oddly Brewery) at nearby Lower Brailes where we were entertained by the excellent Hook Norton Brass Band. Plenty of festivities were conducted at various stages of our journey, for example a prize tasting of a recently discovered bottle of 60 years old strong ale at Batemans and a specially blended ale on handpump exclusively for us there, too; presentations to some of the regular customers at the end of the tour; and <![if !vml]>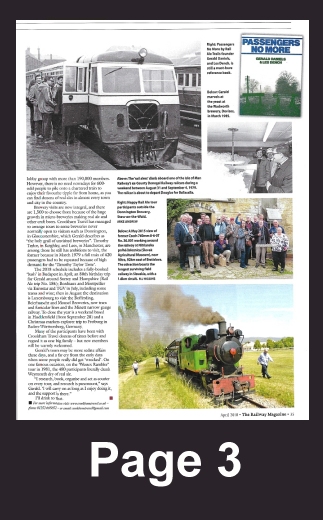 <![endif]>each Traveller received bottles of specially brewed or bottled beers from Elgood's, Batemans, Belvoir, Hook Norton and Oddly breweries. Many thanks are due to all of these breweries and their staff for making this a weekend to remember. More photos of the event can be found in our galleries.  [MA]